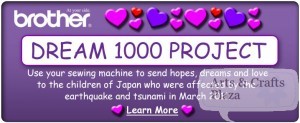 Brother company is sponsoring a wonderful project, 'The Dream 1000 Project'. As we all heard, Japan had a major disaster this year, Earthquake followed by Tsunami that devastated the area. The folks there are still struggling to put their lives back together. Brother's goal is to collect school bags for the children made from a pattern that takes approximately 45 minutes to complete. The bags will be collected and distributed to the children affected by the disaster. Some Brother dealers agreed to collect the bags and ship them, check with your local dealer to see if they are participating. Follow the link below for the Dream 1000 project information and instructions on how to construct the bags and where to send them.  It's the little things that make a difference. The kids will appreciate any and all efforts. The complete bag must be shipped by December 8, 2011.
See how to make this bag:
You can find: How To: Dream 1000 Project Bag – Part 1
You can find: How To: Dream 1000 Project Bag – Part 2
See information Brother provided and consider joining for a great cause:
The Dream 1000 Project – Tuesday, October 25 at 8:00am – December 8 at 9:00am
Brother Industries Ltd., parent company of Brother International Corporation, created the "Dream 1000 Project" with the goal of collecting 1000 bags for young school age boys and girls in Japan who were affected by the earthquake and tsunami in March 2011. We'd like to surpass this goal, but we'll need your help.
We invite you to use your sewing machine to send hopes, dreams and love to the children of Japan by creating multipurpose school bags.
Send bags to:
Ship by December 8 to:
Dream 1000 Project
Brother International Corporation
Attn: HAD Shirley
100 Somerset Corporate Blvd.
Bridgewater, NJ 08807
Please send by a trackable method (such as UPS).
In the link below we have provided the specific instructions on how to create and where to send the bags.
The bags can be constructed in less than an hour and embellished with embroidery, quilting or applique.
You can find the instructions below:
http://ow.ly/d/o3X
For your convenience, see information: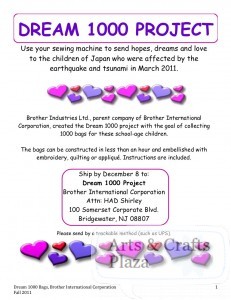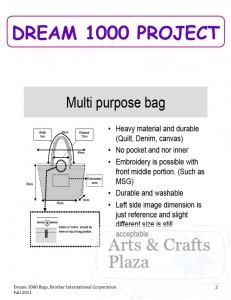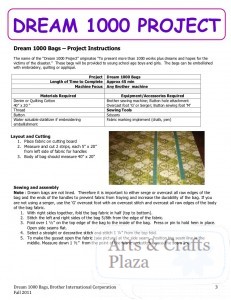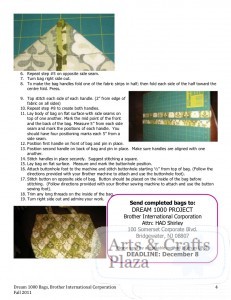 Join the event on facebook:
https://www.facebook.com/event.php?eid=235853446469748
Remember, the goal is 1000 bags, the hope is to far surpass this. Thank you for all your help!
Houston, TX
Visit Brother at the George R. Brown Convention Center!
1001 Avenida De Las Americas, Houston, TX
Brother "drop-in" classroom #361A
Monday, October 31 – Saturday, November 5
8:00 am – noon. 1:00 pm – 5:00 pm
Sunday, November 6
8:00 am – noon only
All materials for creating the bags will be available in the classroom!
Central California
Central Valley Vacuum & Sewing Center customers, we are participating and will allow you to come into the store and use one of our Brother embroidery machines so that you can also participate.
We will even ship them to save you the postage. info@cvvsc.com
41453 Avenue, Madera, CA 93636     559-822-3300      www.cvvsc.com
East Bay of SF, CA:
We are hosting a free sewing bee using all of our fabulous modern sewing technology to sew and embroider tote bags for children in Japan who are still greatly impacted by the effects of the 2011 earthquake and tsunami. Joining Brother dealers across America, our joint goal is to donate at least 1000 totes for school age Japanese boys and girls.
sewnow! will provide all the supplies and set-up, as well as refreshments and a take home gift for all participants. Basic sewing skills required – ages 8-100 are welcome for a morning of sewing fun.
Register by clicking the facebook event or email info@sewnow.com to confirm participation.
960 Moraga Rd., Lafayette, CA 94549   925.283.7396     http://www.sewnow.com
Join us at sewnow! to participate in the 'Dream 1000 Project.
To see some pictures of the area affected and how it's changing:
http://blogs.sacbee.com/photos/2011/09/japan-marks-6-months-since-ear.html
Let's create something!