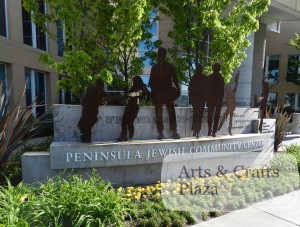 Yesterday Israel celebrated it's 64th Independence Day, Yom HaAtzmaut.
A look into the celebrations at PJCC , Peninsula Jewish Community Center
To check out what else the PJCC has to offer:
www.pjcc.org
800 Foster City Blvd., Foster City, CA 94404
P: 650-378-2721
F: 650-378-2799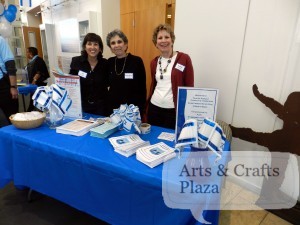 As you walk in to the PJCC, you are greeted with the lovely volunteers.
Take a flag, stickers, pins, schedule of activities etc. and in you go.
First you'll come across the Artists Shuk (Craft Vendors).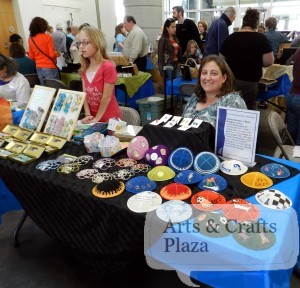 Bezu Designs, handcrafted arts by Cheryl Selman
cherylas@me.com
Cheryl and her daughter are painting yamaka (kippah, kipa) as well as create them from glass and crystals.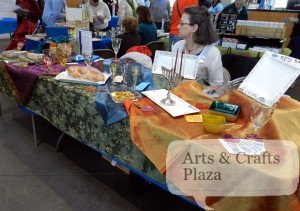 Robin Raphael Simke
sfmadl@comcast.net
Robin is a talented lady who paints on glass.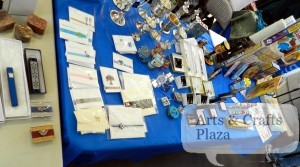 This table was a collective from Starr Stevens Judaica Shop
giftshop@sholom.org
P 650-697-2266
It is operated by the Peninsula Temple Sholom.
You will find unique gifts for all occasions.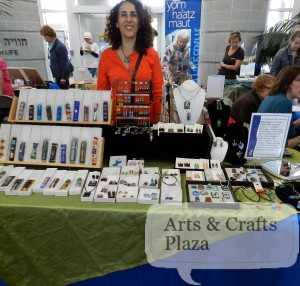 Gila Sagy, Fused Glass Art
www.gilasagy.com
gila@gilasagy.com
Gila creates Jewelry, photo holders, Wine bottle cheese boards and Mezuzah cases.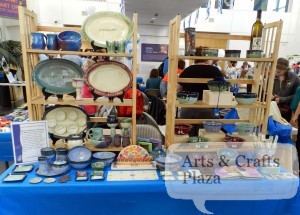 Ceramics by Marcelle by Marcelle Walliser
www.ceramicsbymarcelle.etsy.com
Marcelle creates handmade stoneware pottery, Bowls, mugs, soap dishes, Jewelry and so much more.
Everything is food safe, oven safe and microwave safe. They are dishwasher safe unless otherwise stated.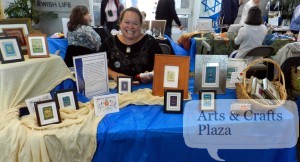 Peace in Mind by Lori Wick
lori.wick@comcast.net
Mixed media artist who creates original framed art from paper, ribbons and textiles.
On each pieces is a hand written blessing.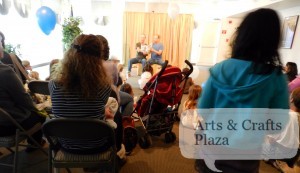 To keep the kids happy, they could listen to stories in Hebrew.
A few of the family activities:
Make a luggage tag
Masada obstacle course
Face painting
Bounce house
And so much more!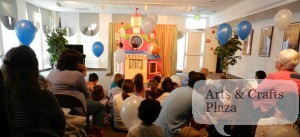 Enjoy the Puppet show, Apartment for Rent (Dira Le'haskir)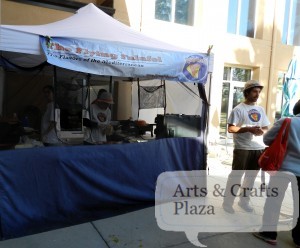 Israeli food by, The Flying Falafel
www.flyingfalafel.com
You can find a story about the origin of falafel on The Flying Falafel site.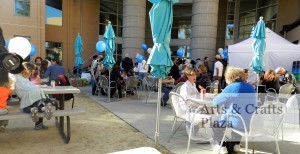 Indoor and outdoor seating to choose from.
Don't worry, pizza sold on PJCC grounds were not harmed!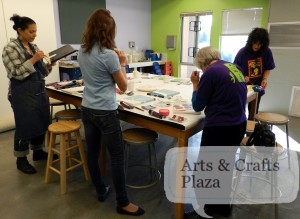 Checking out the community mural.
Great job ladies!
Something for everyone, various activities, Israeli dance instruction or the Peninsula Synagogue Israel video trip.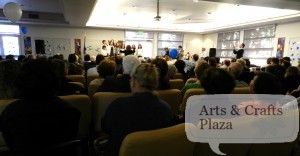 Israel's Independence Day celebrations at the PJCC came to conclusion with several speakers, youth choir and Micha Biton's performance.
All pictures were taken with approval by the artist.
Hope you enjoyed Israel's Independence Day celebrations at the PJCC!
Didn't make it this year? Try and make it to next year.
This event is FREE to the public.
You can check out more information about Yom Ha'Atzmaut Community Celebration (Israel Independence Day)