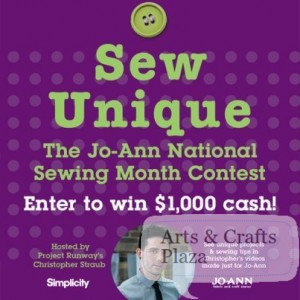 It's that time of the year again!
Unless you've been living under a rock or are just getting into sewing…
You know what I'm talking about.
September is National Sewing Month!
Jo-Ann Fabric and Craft Stores has teamed up with Christopher Straub of season six TV show, Project Runway to host Sew Unique.
The idea behind this contest is unconventional uses of nontraditional fabrics.
If you've ever watched Project Runway you know there is an episode in every season where they take the contestant to a dollar store or a pet store or something store.
Tell them, buy something and create a look fit for the runway!
I think my favorite to this day is the one where, Daniel Feld, made this gorgeous dress from plastic cups on season five!
You don't have to go that crazy but you get the idea… but you can and beyond!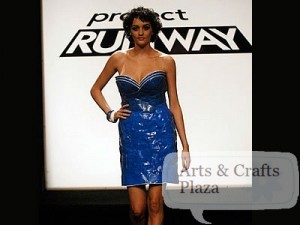 Don't just go to your stash of fabric or the store, grab your favorite cotton fabric and whip up something.
Taken from the contest rules:
"The item may be sewn by hand or by machine, or both. Sponsors are looking for creative uses of "utility" fabrics, such as burlap, duck canvas, rubber sheeting, ticking, mesh, netting, ripstop, vinyl, and others, although creative entries showing nontraditional uses of unique fabrics will also be considered."
Want to read the fine prints of the rules?
Check it out: http://www.joann.com/static/socialMedia/Contest/NSM_contest_rules.pdf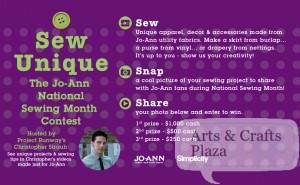 You are just hearing about this contest.
You're creative juices are starting to work.
You're thinking to yourself, is it worth it?
What can I win?
The First Prize gets $1000 cash and a Simplicity gift basket worth $275.
A Second Prize winner will get $500 cash and a Simplicity gift basket worth $275.
Third Prize winner wins $250 cash and a Simplicity gift basket worth $275.
All other Finalists will receive a Simplicity gift basket valued at $50.
So how long do I have to enter?
The Contest begins on September 1, 2012 at 9:00 a.m. Eastern Time.
The Contest ends on September 30, 2012 at 11:59:59 p.m. Eastern Time.
What do I need to do to enter?
To enter, 'like' Jo-Ann Fabrics and Craft Stores on facebook, http://www.facebook.com/JoAnn
Go to the contest tab, "Contest: Sew Unique".
Fill out the official entry form.
Upload a photo of your creation (see instructions).
You can submit one entry a day (not the same item).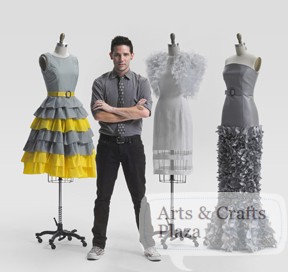 If you are one of the ten lucky finalists:
The ten finalists will be notified via e-mail and/or telephone on or about October 26, 2012.
Winners will be selected on November 20, 2012
Want to see who you're competing against?
Check out Jo-ann's contest page on facbook and see what people have already submitted and be inspired!
Christopher Straub will provide inspiration and advice through a series of videos on Jo-Ann's Facebook page.
Christopher created a collection of designs using utility fabrics from Jo-Ann.
Each week during September, he will offer tips and inspiring ideas.
So make sure you check Christopher's videos!
 You now have the 411 on Sew Unique contest!
If you're not on Jo-Ann's mailing list and have their phone app you are missing out!
Take advantage of the coupons, tutorials and so much more that Jo-Ann has to offer.
Final thought:
Next time you give a gift to someone, don't paper wrap it.
Use fabric!
Tell them, the next time you see them, you want to see that fabric put to good use!
Enjoy!
Let's create something!