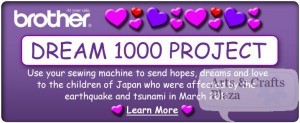 BROTHER INTERNATIONAL CORPORATION' DREAM 1000 PROJECT PRODUCES SCHOOL BAGS FOR
JAPANESE EARTHQUAKE AND TSUNAMI VICTIMS
To view original post:
The Dream 1000 Project
Customers and dealers overwhelmingly respond to global relief effort with much-needed sewn bags
BRIDGEWATER, NJ –When a Japanese engineer working for Brother Industries Ltd., the parent company of Brother
International Corporation, "dreamed" big, he could not have imagined the outpouring of international support he would receive.
The Dream 1000 Project, a global relief effort created in mid-2011, called for all of Brother's worldwide employees
and its dealers to support those affected by the March 2011 Japanese earthquake and tsunami by producing 1,000 hand-
decorated fabric school bags for children to tote their belongings.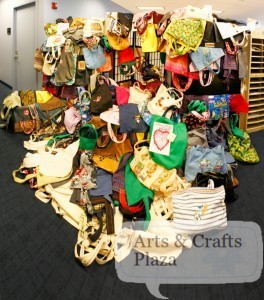 Photo 1: Tote bags created by Brother employees and dealers for Japanes children affected by the tsunami
came in an array of colors and designs.
The project combines Brother's history and leadership of producing world-class sewing machines with its strong corporate
commitment to the community and its Japanese roots. The completed bags from the U.S. as well as Canada, Brazil, and
Taiwan, were shipped in late December. In total, more than 1,300 tote bags were produced and shipped to the Japanese
children.
Here in the U.S., project leaders asked for 100 tote bags but Dean Shulman, Senior Vice President of Brother
International Corporation and head of the Home Appliance and Industrial Products Divisions, set a higher goal. Shulman
asked for 300 tote bags from his associates around the country.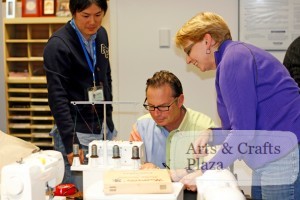 Photo 2: Dean Shulman (center), senior vice president of Brother International Corporation and head of the
Home Appliance and Industrial Products Divisions, created his own tote bag for the Dream 1000 project.
"In the end, our employees, dealers, and customers answered our request in an even bigger way and sent us 524 tote
In bags for the relief effort,"says Shulman. "
They completely surpassed our goal of 300. One dealer even sent 70 bags."
Part of the allure of producing the bags was their easy pattern to follow. Participants say the bags took no more than 45
minutes to produce, depending on how much unique embroidery, quilting, or appliqué was added. The 20 x 20-inch tote
bags were made with heavy, durable fabrics such as denim or canvas and had a closure, either a button or Velcro, and
handles.
"Sewers and crafters are very compassionate, giving people,"says Shulman. "
They used their Brother sewing machines
to send hopes, dreams, and love to the children of Japan by creating these essential multi-purpose school bags. Nearly a
year after the disaster, the Japanese people still face basic needs to rebuild their lives."
On March 11, 2011 a strong earthquake measuring 9.0 on the Richter scale struck off the Pacific coast of Japan, followed
by severe aftershocks. It was the most powerful known earthquake ever to hit Japan and one of the five most powerful
earthquakes in the world since modern record-keeping began in 1900. The earthquake triggered powerful tsunami waves
that reached heights of up to 133 feet causing devastating human and physical damage in northeastern Japan and
destroying entire cities in the coastal prefectures of Fukushima, Iwate and Miyagi. The Japanese National Police Agency
confirmed 15,844 deaths, 5,890 injured and 3,451 people missing. The disaster damaged or destroyed more than
700,000 commercial and residential properties, leaving thousands of families homeless in the middle of winter.
According to Save the Children, an international humanitarian organization, the crisis in northeastern Japan directly
affected more than 100,000 children through displacement, loss of access to education, loss of family members, and
exposure to high levels of stress and anxiety.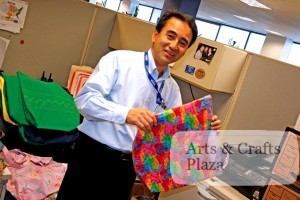 Photo 3: Brother International Corporation's president, Tadashi Ishiguro, admires the many tote bags produced
for the Dream 1000 project.
Coming to their aid, Brother employees, dealers, and customers from 17 U.S. states gathered together throughout the
summer and fall to produce the tote bags. Dozens of quilters from around the world created bags during the Houston Quilt
Show in November—the largest quilt show in the U.S. with 30,000 attendees. Terry Koike, president of Brother Industries
Ltd, participated in the project by making a bag, as did Brother International Corporation' president, Tadashi Ishiguro and
his wife. Brother International Corporation' Dean Shulman made a bag and decorated it with glitter, a guitar, and
handwritten message, " Our Heroes in Japan from Your Brothers in the U.S.A."Another donated bag was embroidered
To simply with the words "Love, love, love."
Creative Threads, a family-owned two-store dealership in Binghamton and Greene, New York, contributed 12 bags to the
project. A note accompanying their donation said, " We send our thoughts and prayers for those in Japan impacted by the
tsunami. We hope that these bags will help bring some joy to the children affected by this tragedy."
Amy Phipps, an employee at Creative Threads, joined four others who produced the school bags. " We thought it was a
great idea on Brother's part to extend this invitation to make the bags and help the children. They are so far away in
Japan and you don't know what to do to help. You can contribute money but it seems so impersonal. Knowing that these
bags are needed gave us the opportunity to help out, especially for the children who sometimes seem to be forgotten."
The five from Creative Threads found the pattern very easy to follow. They enjoyed, said Phipps, being able to customize
the bags for either boys or girls using their own fabrics and embroidering Disney characters on some of them.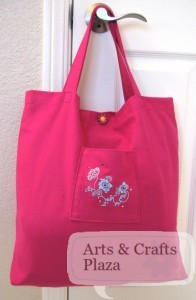 Keren at Arts And Crafts Plaza makes a bag to donate to the kids affected by the Tsunami and Earthquake in Japan.
How To: Dream 1000 Project Bag
At sewnow! in Lafayette, California (outside of San Francisco), co-owner Susan Goldie assembled her pre-teen and teen
sewing class to produce the tote bags. The 22 teens worked at different stations and produced 20 bags for the project.
"Our core business is to teach sewing skills to children and adults,"says Goldie. " We incorporated the project into our
teen sewing class. The kids found it super fun to make the bags and they were aware of the disaster in Japan and felt it
important to help other children."
Goldie's group produced tote bags for both boys and girls using blue and grey denim fabric and accessorizing them with
floral or plaid straps. The more experienced sewers took the roles of precision sewing techniques such as top-stitching
and button holing whereas the new sewers produced straight-line stitches.
"We even had a few guys come to work on the tote bags,"recalls Goldie. "
They are usually more interested in the
technology behind the sewing machines. This project really highlighted that area on our Brother machines since we used
the Quattro® 6000D model with the scanner and camera features. The Brother machine also has hundreds of built-in
embroidery designs that we could use on our tote bags and that captivated their interest."
To learn more about Brother International Corporation, visit www.brother.com.
About Brother International Corporation
Brother International Corporation has earned its reputation as a leading supplier of innovative products for the home sewing enthusiast. Through a
growing network of sewing machine dealers and retail outlets nationwide, Brother offers a full line of home sewing machines, from basic to top-of-the-line
sewing and embroidery machines. The company is recognized for its high-quality, state-of-the-art machines and accessories, offering ease of use and
flexibility at affordable prices. Brother is a wholly owned subsidiary of Brother Industries Ltd. With worldwide sales approaching $5 billion, this global
manufacturer was started almost 100 years ago by sewing fanatics. Brother offers a diversified product line that includes fax machines, Multi-Function
Center® machines, P-touch® Labeling Systems and both color and mono laser printers for home, office and industry. Bridgewater, New Jersey is the
corporate headquarters for Brother in the Americas, from Canada to South America. It has fully integrated sales, marketing services, manufacturing,
research and development capabilities located in the U.S. In addition to its headquarters in Bridgewater, New Jersey, Brother has facilities in California,
Illinois, Massachusetts and Tennessee, as well as subsidiaries in Canada, Brazil, Chile, Argentina Peru and Mexico. For more information you can visit
the website at www.brother.com.